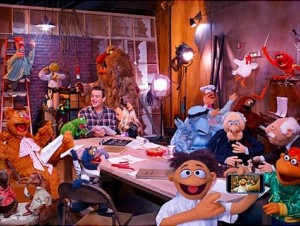 First of all theres the news that there will be another Muppet's movie released on 25th December 2011, directed by James Bobin and written by Jason Segel and Nicholas Stoller, the team behind Get Him To The Greek.
Although it is now unknown if it will be named just "The Muppets" or the amazing title that is "The Greatest Muppet Movie Ever Made", there will definitely be a new Muppet's film released and an update of the cast this week has turned it into a long list of great talent and cameo appearances that is just incredible.
Take a deep breath before reading this as its a very long list, but the cast list as of today is:
Jack Black(School of Rock)
Donald Glover(Community)
Jane Lynch(Glee)
Danny Trejo(Machete)
Eric Stonestreet(Modern Family)
John Krasinski(The Office)
Ed Helms(The Hangover)
Paul Rudd(I Love You Man)
Chris Cooper(The Bourne Identity)
Rashida Jones(I Love You Man)
Zach Galifianakis(Due Date)
Amy Adams(Enchanted)
Lady Gaga
and Jason Segel(Forgetting Sarah Marshall) will also be starring as the main character
An incredible list of actors and actresses that will be joining forces for this movie that will surely romp the box office over the Christmas period next year and with over a year still before it's release this is probably not the end of the amazing cast list.
There are also some rumours of other talent such as Steve Carell(The Office) and Bill Hader(Superbad) have also joined the cast and Segel and Stoller are also said to be interested in getting more cameos from the likes of Matt Damon(The Bourne Identity), George Clooney(Ocean's Eleven) and Mel Brooks(The Producers).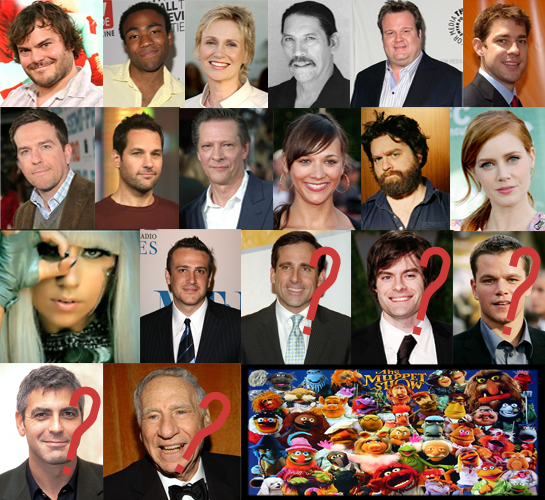 Who else will join this long list for The Muppets? We can only wait to find out.