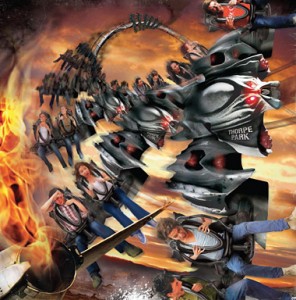 It's relatively old news for some of you I'm sure, but I have just found out about it and need to share the news with those of you who don't already know.
I have previously blogged about the up and coming new ride for Thorpe Parks 2012 season which was under the project name of LC12. Well now this project name is no more, as Thorpe Park have Officially Announced the name for their new coaster, The Swarm.
The ride will be the first wing rider roller coaster in the UK and from the look of the mini-site for the ride and the promotional video, the theme is set around an apocalyptic war that is coming, with "No One To Run To" and "No Place To Hide".
I've never been on a wing rider coaster before, so for me I am amazingly excited for this ride, which will take it's place in the park behind Stealth on a new purposely built island for the ride.
Thorpe Park attempts for publicity for their new ride of 2011, Storm Surge, saw them claim the grounds they were building on were haunted, which eventually was admitted to being just a publicity stunt. So I wonder what tricks they will try and pull for The Swarm.
Or maybe just the fact that this war that is coming will bring with it a brand new £20 million, first of its kind in the UK coaster, will be enough to lure the public into the park next year.
It's more than enough for me!
You can view the mini site that contains the promo video by clicking the image below.