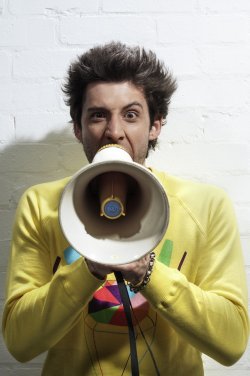 Well I mentioned it earlier in the week when I showed you a Dub Mix of his new track Changed The Way You Kissed Me, but now Example's latest single is Zane Lowe's hottest record in the world and we finally have an official version to listen to.
On the show Example also revealed a lot about his new album, with the most shocking announcement for me being that he is planning to have the album done in the next two weeks! and released in September!
The album title was also exclusively revealed and is "Playing In The Shadows" and some producers working with Example on tracks for the album include some of the biggest name in dance, trance, drum & base and dubstep.
This first single is produced by Michael Woods and other tracks on the album are produced by the likes of Skream, Nero, Brookes Brothers, Faithless, Dirty South and Chase & Status.
The album was described by Example as "It's more of a dark, epic, beast" than his last album, Won't Go Quietly, which has got me (like a lot of Example's fans) very very excited for what Example will give to us in 2011.
This song is made for Zane, it's made for dance floors, it's made for radio, festivals and Mum's. Check out the Official version of Changed The Way You Kissed Me below. Set to be a massive tune for the summer 2011.