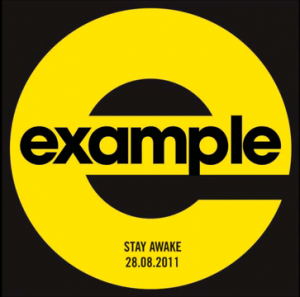 On the first hearing of Changed The Way You Kiss Me I instantly thought this is going to be huge and Examples follow up to his first ever number one single is Stay Awake, which unfortunately I don't have the same thoughts for.
It's a good song don't get me wrong but it's not in the same league as Changed The Way You Kiss Me, and seems to lack the same beats that gets crowds around the world bouncing to CTWYKM.
The rapping and lyrics of the track is great yet again as it always is with Example, and Nero's production of the track is also top notch as you would expect from the London dubstep duo.
After a few more listens it has grown on me a lot more but I still don't think it is my favourite Example track, but it has wetted my appetite for more Example tracks which will be released to us along with the new album in September.
The Interview on BBC Radio One last night with Example and Annie Mac when the song was premiered was very good as well and worth a listen to if you have a spare few minutes over the weekend. Click Here To Listen and scroll to about an hour through the show.
The new single will feature on Examples next studio album Playing In The Shadows and the new track and interview with Annie Mac has got me even more excited for the album and I can't wait to hear it come September.
Example also let us know of exciting news that Laidback Luke has also produced a track on his new album as well as the awesome line up we already knew that includes Chase & Status, Skream, Faithless and many more top electronic producers around today.
Stay Awake will be released on 28th August and will be available for pre-order next week. Check out the new tune below and let me know your opinions below.