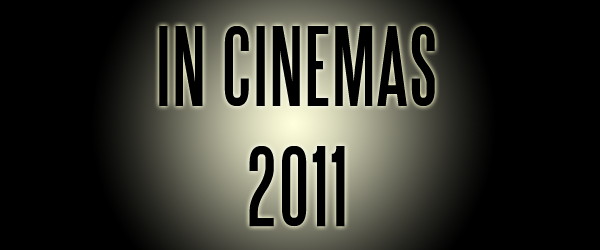 Although I am looking back on the amazing year of entertainment, I am also looking ahead to 2011, which should be set to give us even bigger and better entertainment, especially on the big screen. So here is my first part of movies that I am looking forward to seeing in 2011 and you should be too. Enjoy.
127 Hours
Based on the true story of Aron Ralston who famously got trapped by a boulder when mountain climbing in Utah and was forced to amputate his own arm off to free himself.
I already posted a blog a few months ago when I first saw this trailer and from Reviews I have heard already about the film and in particularly James Franco's performance, I am really looking forward to seeing it when it comes out in the UK early January. There is also a very gory amputation scene in the film which I can't wait to try and watch but struggle and look away from.

UPDATE: Read my review.
Director: Danny Boyle.
Starring: James Franco, Amber Tamblyn, Kate Mara.
UK Release Date: 7th January 2011
The Next Three Days
This is another film of a person sent to prison, maybe wrongly maybe not, but either way the husband is so convinced it's not and helps his wife escape.
It then looks like a cops and robbers chase which should give us some great tense moments and good action.
Director: Paul Haggis.
Starring: Russell Crowe, Elizabeth Banks, Liam Neeson.
UK Release Date: 7th January 2011
The Green Hornet
Seth Rogen being a super hero? Yes please! In this superhero comedy Seth Rogen plays the character who goes by the name of The Green Hornet. Joined by his sidekick played by Jay Chou the duo aim to pose as a villains in order to get close to them before taking them down to save their city. Should be a fun film to see in 2011.
Director: Michel Gondry.
Starring: Seth Rogen, Jay Chou, Cameron Diaz, Christoph Waltz
UK Release Date: 14th January 2011
The Dilemma
There are many rom coms that come out each year and most of them are all the same two people meet, they fall in love, break up, then get back together in the end. Well this one looks a bit different. There's two couples who are together but then one guy see's his best friends girl with another man. Cue a dilemma and a film about Vince Vaughn deciding whether or not to let his friend know the truth.
Director: Ron Howard.
Starring: Vince Vaughn, Kevin James, Winona Ryder, Jennifer Connelly, Channing Tatum.
UK Release Date: 21st January 2011
Just Go With It
Another rom com to be released in 2011 is Just Go With It, which is another unfortunate love story of Adam Sandler who pretends to be married to pick up girls. Strange way of going about it, but when he meets a girl he actually likes and she finds the fake ring in his pocket, Sandler can't tell her the truth and a lie that he is married to Jennifer Aniston is created and soon escalates beyond going back. Another different style of rom com for 2011.
Director: Dennis Dugan.
Starring: Adam Sandler, Jennifer Aniston, Brooklyn Decker.
UK Release Date: 11th February 2011
No Strings Attached
I'm beginning to look like a bit of a sissy with all these rom coms I'm looking forward to seeing, but this one is about No Strings Attached sex. Ashton Kutcher and Natalie Portman decide to put their long friendship at risk by having sex with no complications. Now throw in the typical romantic comedy factor of, oh my god the boy actually is starting to like the girl now and we have a situation that should end up in them falling in love in the end but we will still watch the film to find out how.
Director: Ivan Reitman.
Starring: Ashton Kutcher, Natalie Portman.
UK Release Date: 11th February 2011
Paul
The duo behind Shaun of the Dead and Hot Fuzz team up again which should mean a film completely full of laugh out loud moments. Then when you see the trailer and find out the plot of the film you just know for sure this is going to be an hilarious movie. Simon Pegg and Nick Frost's characters are having the time of their life together on the open road when they come across an alien called Paul who needs their help. Then the funny moments will occur as the duo will almost certainly not be the best guys for the job.
UPDATE: Read my review.
Director: Greg Mottola.
Starring: Simon Pegg, Nick Frost, Seth Rogen(voice).
UK Release Date: 18th February 2011
Rango
This animation film starring Johnny Depp is about a chameleon called Rango who comes across a Western town run by bandits. Rango has always dreamed of being a hero and now it is his chance to be one, by becoming the sheriff and protecting the town from the bad guys. The animation for the film just looks amazing and I'm sure it'll be a good film for the whole family.
Director: Gore Verbinski.
Starring: Johnny Depp, Isla Fisher, Timothy Olyphant.
UK Release Date: 4th March 2011
Source Code
This interesting plot is about a device called source code, which allows someone to go into the mind of someone dead to witness the last 8 minutes of their life. Jake Gyllenhaal's character is a soldier who is using the source code to find the bomber on a train just out of Chicago in order to prevent a second attack from occurring in 8 hours time. It doesn't help that he then tries to save the girl he is with on the train as well as finding the bomber, as time is running out and with only 8 minutes each time he goes back using the source code, he needs to act fast to save the lives of hundreds of people. This film looks very very cool.
Director: Duncan Jones.
Starring: Jake Gyllenhaal, Michelle Monaghan, Vera Famiga.
UK Release Date: 11th March 2011
Hall Pass
Two married men who are obsessed with sex are giving a hall pass by their wives, which means they have one week where they can sleep with and do whatever they want with no consequences. Excited about the news the two fellas jump at the chance and beginning a week of going out and pulling as many women as they can. However these guys are not the studs they believe they are and getting all these women they imagine they can is not as easy at it seems, where as on the other hand, their wives are finding it much easier. This film is such a great concept and should have some hilarious moments.
Director: Bobby Farrelly and Peter Farrelly.
Starring: Owen Wilson, Jason Sudeikis, Christina Applegate, Jenna Fischer.
UK Release Date: 11th March 2011